This is the first of a series of interviews and photo shoots I intend to do on the stylish people of my town Sacramento. I had lots of fun doing the photo shoot for my friend Jordan at this beautiful cemetery off broadway. I find them to be so calming and serene. I've always loved Jordan's style. She manages to look oh so comfortable and effortlessly chic and has such gorgeous vintage pieces. She blogs about her life at
Jordan Redskin
.
How long have you lived in Sacramento and where did you live before?
Except for a two year period as a toddler in which my parents were attending school in Texas, I grew up here. I moved to San Francisco for some college, then to Berlin for a year. I've been living back here since July 2009.
How did you start getting into vintage and thrifting?
My mom. She was always dragging me to thrift and antique stores as a wee one, and I always hated it. I don't know when the turning point was, but apparently there was one.
What are some of your favorite vintage and thrift stores?
In Sacramento, I love the two sketchier Thrift Towns. Also, Deseret off of I-80 is gigantic and incredibly cheap -- I scored a pair of two dollar kilty/tassel loafers there less than a week ago. The owner of Bows and Arrows once called me "a regular", so I guess I go in there a lot too. Online, I love Twitch Vintage (and I read Robyn's blog), and Etsy in general. I guess this doesn't count as thrift or vintage, but I do love the site
achachliebling.com
for jewelry -- it's all handmade in the bay area.
How would you describe your style?
Oh god, I'm not sure. I think my style is just really easy. I don't consider myself a great stylist, so I usually just try to buy pieces which by themselves are cool; that way, I don't have to do any work. I do prefer to look a little bit fallen apart rather than completely put together, which makes job interviews a struggle. I love imperfection in style. I find it very inspiring.
What are some of your favorite style blogs?
I read yours, as you've probably realized. I began getting really into street style blogs before personal style blogs, and the one that really sparked my obsession was Hel Looks. I also love Another Day to Dress Up, Calivintage, the SF Style, and the not-too-oft updated blog Captain Darjeeling, the writer of which is a good friend of mine from San Francisco (now based in New Mexico). There are so many more that I hate to leave out, but it would just take up too much space.
Who are your style icons?
My friends, mostly. And anyone who makes head-to-toe black look interesting.
What are your other hobbies?
I love journaling, thrifting, sewing, and trying to teach myself how to do different crafts (like upholstering). I like reading, but have no patience for books that don't grab me with a chokehold within the first few chapters. I also get really into TV shows, and spend a lot of time speculating about them and telling people to watch them. So those of you who haven't seen Party Down or Arrested Development, make it happen! Oh, and I love cooking. I somehow made myself into a good cook in less than a year, and now I'm having a great time with vegan recipes. I also ride my bike a lot, but that's more out of necessity.
Favorite food and drink?
I absolutely love Indian food, but can never make it very well. I'm just crazy about fruit (nectarines, blueberries, and cardamom together make the best dessert), and regularly eat spinach sautéed with Tofurky Italian sausages. My favorite beverages are home made iced tea/lemonade, and a good hefeweizen. Germany made me into a beer snob (sometimes).
Favorite books, tv, movies, and music?
Black Hole by Charles Burns is a comic, but a favorite nonetheless. I also really enjoy Roald Dahl, whose kids stories were a big part of my childhood, and whose stories written for adults are wonderfully twisted. My favorite TV shows are Arrested Development, Freaks and Geeks, and Party Down (all canceled, by the way. My entertainment is their bad luck). Hedwig and the Angry Inch has been my favorite movie since it came out. I don't get all that creative when it comes to my music taste, but a few of my favorite artists are Apples in Stereo, the Pixies, Wire, and Buddy Holly. Oh, and David Bowie. I should stop before I get too into listing bands for the necessary street cred.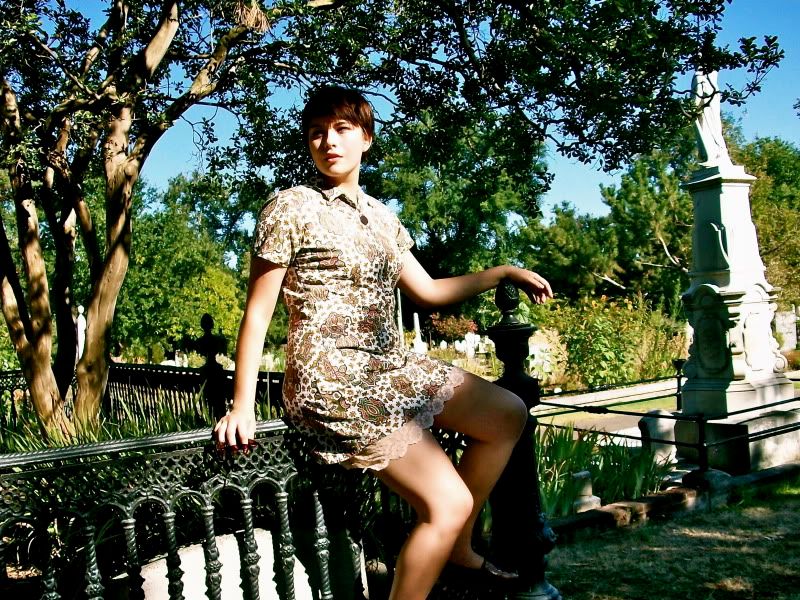 How has your fashion sense changed over time?
I didn't start wearing dresses or skirts until my junior year of high school. For a while in college, all of my vintage pieces were polyester. I think I'm feeling more comfortable in simpler outfits, instead of trying to alter and accessorize so much that it hides the piece I loved to begin with.
What are some of your favorite pieces in your closet right now?
I've always loved that blue and white dress with the attached necktie. It's been my favorite for four years or so. I have a gorgeous pair of lace-up kilty boots that I'm excited to wear again in the fall, which are like Doc Martens with a narrower toe. I wore Docs a lot in Germany, because winter shoes are a big ol' deal there. Wearing something like Chucks in the winter, you will get stared at like a rambling lunatic, even if it's not snowing. California did not supply me with those instincts, but now I have them forever.
What is your favorite season fashion wise?
Fall. I love tights, and they're really practical for bike riding.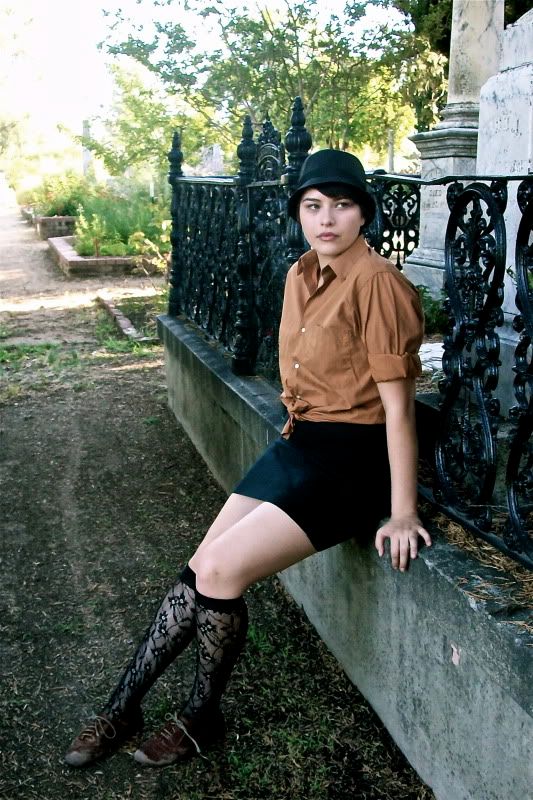 What is your favorite time period for vintage?
I love mod style, which is funny, because I don't have many mod pieces in my wardrobe. I like the simple patterns and bold colors. That's probably also where my obsession with loafers comes from.
What fashion trends do you wish would never come back?
I really don't like the look of those over-styled, over make-upped scene kids. It's something I was into when I was much younger, so maybe that hatred is fed by embarrassment. I think that I'm automatically turned off when someone's look appears to have taken a lot of effort.
What are your tips for finding good thrift finds?
Learn to sew, and find your way (using elbows, if necessary) to a sewing machine! It opens up lots of options for altering clothing that would otherwise be unattractive, particularly if you have specific taste in hemlines like I do.